We think your Un-Bull-ievable! We value YOU as a loyal customer. To show our appreciation, we now have a loyalty "points" program. Sign up today! It's FREE!
Loyalty members receive 10% of their bill (pre-tax) as an accumulation on their loyalty card.
You can redeem your loyalty points once you have 200 points ($20) in your account. The points are as good as cash.
We have over 3000 loyalty members! Why not be one of them?
Download, print, fill out, and bring to the restaurant. Or ask your server for a signup form when you are in.
Great for Business lunches and dinners, team sponsorships or taking your spouse out when it's your turn to buy – why not let us?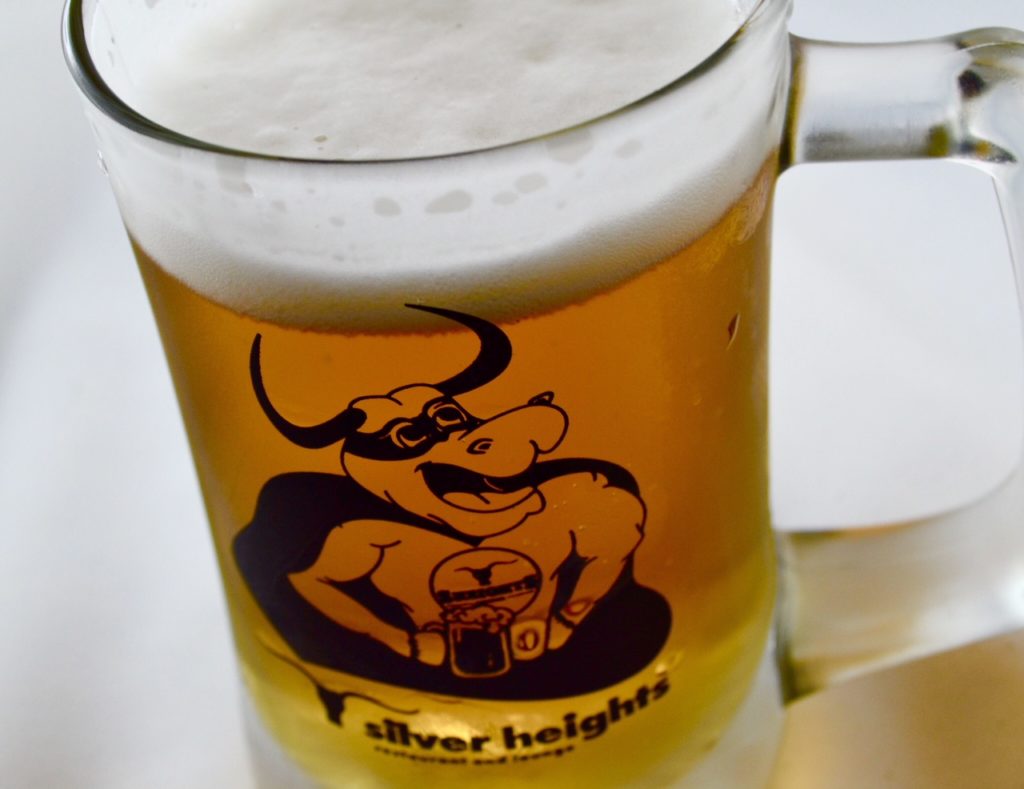 Apply for our Loyalty Program
The Silver Heights Team Sponsorship
The Silver Heights Lounge builds Team Relationships. This has been home to numerous local teams for many years and will carry on the tradition for years to come. We provide a relaxing watering hole for your teammates, friends, family and even opponents to get together "befor and afta" the game, practice or whenever. We assist each team with fundraising to purchase equipment, registration fees and the huge "End of the Season Party".
"What the Heights will do for you"
The Heights goal is to keep your team satisfied and competitive throughout the season. Every time you come in, as long as there are ten of you, we will provide free A Snack such as a Silver Platter for the group. Whenever the team comes in, drink specials will be applied. This includes happy hour prices all day long, six days a week. You and your friends will unfortunately be subjected to Friendly, groovy and Speedy Service at all times. Also, when we receive any promotions from our liquor reps, we will forward them on to the team.
Our main attraction is "The Loyalty Plan". The loyalty plan is an in house promotion that is in effect all season long. It is like a points system, the more money you spend, the more money you'll get back. Anytime a teammate purchases a product from the Silver Heights Restaurant and/or Lounge, 10% of the bill before taxes will be banked for the whole team. One person from the team will hold on to the receipt and silver heights will hold on to one. At the end of the season, the sum of the money banked will be given back to the team in the form of "the biggest party ever!". The idea is if you're going to spend the money anyway, why not spend it to benefit the team. Any teammate can come in with friends, family or by themselves and earn points for the whole team. The funds can not be carried over they must be redeemed at the end of the present season,
The Heights will host Grey Cup and Super Bowl Parties for the Team. This is a successful means for fundraising for the team. For example, ticket prices for the team may be $13.00. Each teammate will sell tickets, the team gets $5.00 and the remaining will pay for all the provisions, such as the food, staff etc. During the party, the team can profit from the 50/50 draws and/or a silent auction. Past parties have reached up to 150 guests. You do the Math!
"How to make this as easy as possible"
In turn for all this, just come in have fun, go wild and relax with your friends its nice to see your uniforms but its not necessary. Before you come, please give us a call to confirm the time and amount of guests arriving. This will guarantee a table is reserved and set up for your team.
To further assist us, it would be beneficial for you to provide us with a game/practice schedule. We can prepare for you arrival and help promote your team to other patrons. There is nothing better than having a huge crowd cheering for your team.
"Deal or No Deal"
But most importantly, we have only one rule. Please respect the property of the restaurant and be courteous to other patrons. Once a teammate or friend breaks these rules the deal is off and everything the team has worked so hard for is lost.
Hours
Monday to Saturday
11:00 am - 2:00 am
Open Sundays for special events and large parties of 50 people or more.